1745 Jacobite Society Favorite Links
Below you will find some links that we think will be of interest to you. We as amatuer historians have found these links to be most beneficial. We hope you enjoy them as much as we do.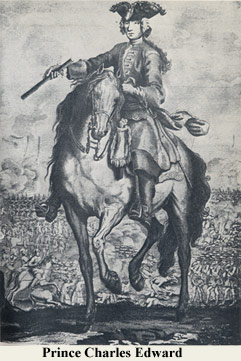 Search Engines
AltaVista You know us as the Internet's original search engine.
Lycos One of the most visited hubs on the Internet reaching one out of every two web users.
Yahoo! With over half a million sites divided into more than 25,000 categories, Yahoo! is both browseable and searchable.
InfoSeek GO Network is a new brand that brings together the very best of the Internet in one, easy to use place.

Favorite Sites
The British Brigade

The British Brigade is one of the umbrella groups of the reenacted American War of Independence.


Brigade of the American Revolution

The BAR is another umbrella group of the American War of Independence.



The Continental Line This is the umbrella group for the rebels.

Jas. Townsend & Son

A great place to find clothing and wares of the eighteenth century.


G. Gedney Godwin

G. Gedney Godwin is another great source for eighteenth century wares and clothing.


Military Heritage

Military Heritage is home of the Discriminating General, a great source for swords, flintlock muskets and pistols. Also, a great place for period clothing.



http://wmboothdraper.com/

Wm. Booth, Draper

Provides fabric, patterns, and books for historic 18th century custom made clothing.